The name "Tobermory" is derived from the Gaelic "Tobar Mhoire", which means "Well of Mary" and relates to the well and chapel of St Mary – there was a small Christian settlement in Tobermory from early times. The original name for the distillery, Ledaig (pronounce Led-chig) is also Gaelic and means "Safe Haven".
Tobermory Distillery is one of the oldest operational Malt Scotch Whisky distilleries and celebrated its 200th Anniversary in 1998
Today Tobermory distillery produces two different styles of single malts. The first one is a lightly peated malt called Tobermory. The second is an extremely peaty malt called Ledaig.
Two members of MaltGeeks visited the distillery and came back with bottle: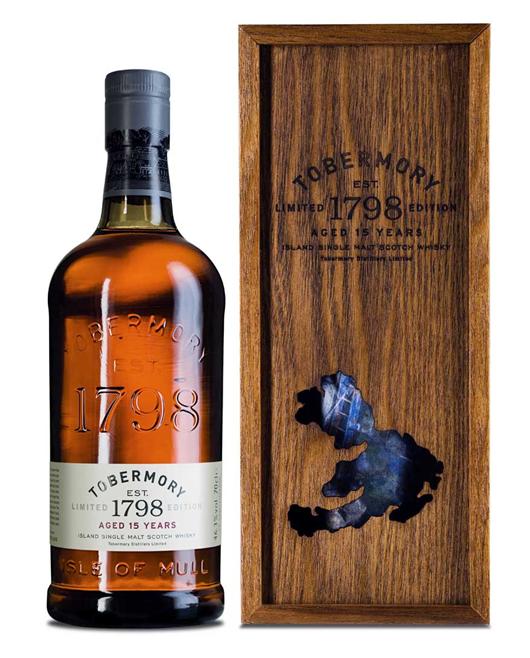 The whiskey is bottled at 46.3% and as such might require water, the only way to know is to try:
Colour: Honey gold , smooth and clear with a fluid swirl .
Nose : Gentle on the nose not over powering but dissipates very quickly. Traces of Pines, Peat, Vanilla , faint Peppers.
Palate : Nice mellow burn , and a slow after burn in the gut , lingering traces of pines and caramel , the tastes evaporate from the mouth very quick .
Now with a drop of water :
Colour : A drop of water lightens the colour , making it a shade of pale honey.
Nose : The aroma is getting a mixed treatment, with the more prominent scents feeling repressed with traces of vanilla and cinnamon coming out .
Palate :The burn is still there but takes more time to come out, but once it is out it is slow and building nicely , going down smooth and providing a good burn in the stomach. Traces of Caramel , Pine , Vanilla and Peppers.
Conclusion : very mellow dram with a nice kick and burn, going down smooth but can go to the head fast.
For a price of £75 it is bit over priced (but it is a limited edition) , a good drink for the end of the night 3.6 out of 5 .